Nakayama Iron Works has 100 years of accumulated credibility.
Since this company's fundation on 1908, we have been producing industrial machines that meets era's demand.
In this page, we will introduce how we have been contributing to our society more than 100 years with developing technological strength.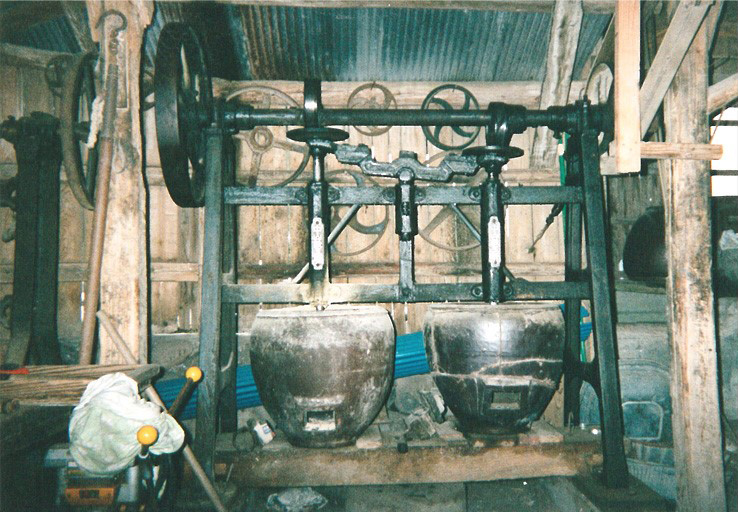 Year 1908
This company's founder Mr. Nakayama Hisaya founded factory at Takeomachi to produce gas generator and wheat scourer.
Year 1942
Manufactured brake crusher.
Year 1950
Second generation president Mr. Nakayama Yasuhiro took over the business.
Year 1954
Started to produce single toggle crusher.
Year 1962
Transferred the location of the headquarter and plant to Asahimachi, Takeo City, Saga pref.
Year 1964
Company name changed to Nakayama Iron Works, Ltd.
Year 1968
Opened Tokyo branch.
Opened second headquarter plant (Assembly plant).
Year 1970
Started to produce a crushing plant for export.
Year 1971
Became a member of The Japan Society of Industrial Machinerly Manufacturers.
Specified as excellent declaration corporation.
Year 1973
Obtained permission of constractor's license for machine and equipment installation work.
(Minister of Construction Permit, article 907)
Year 1980
Obtained Small and Medium Corporation Center Prize.
Year 1984
Developed quarry-face giant jaw crusher
Year 1987
Developed crushing granulator gyropactor.
Year 1989
Increased capital to 54 million Yen.
Received investment from Osaka Small Business Investment Co.,Ltd. and increased capital to 86.5 million Yen.
Year 1990
Opened Osaka branch.
Year 1992
Headquarter building complete.
Exhibit at Tokyo Environmental Exhibition. (We have been exhibiting every year since this year of exhibition)
Year 1993
Started to manufacture mobile crusher.
Year 1996
Mr. Hiroshi Nakayama been inaugurated as president for the president of third generation.
Opened Nagoya sales office.
Year 1997
Opened Singapore representative office.
Established N.C.S.S.
Year 1998
Started to manufacture soil remediation equipment.
Started to manufacture roll crusher.
Year 2000
Obtain ISO9001 certificate.
Year 2003
Opened Hiroshima sales office.
Opened Sendai branch office.
Year 2008
Opened Tokyo maintenance center.
100th anniversary since company's foundation.
Started to manufacture Suction Air Separator unit series
Year 2012
Started to manufacture electrically-powered mobile series "Dendoman".
Year 2013
Started solar photovoltaic power generation business.
Year 2014
Tokyo branch moved out from Nihonbashi to Aoto.
Award a prize of Dendoman machine industry design.
Started to accept overseas internship student.
Until present.